Happy Humpday! Like my skincare regimen, my makeup routine is pretty simple, too - I stick with the basics, but I do use a few items to enhance my makeup. There's a few products I've used for years, and then there are a few items I switch up when I run out of the current product I'm using. Let's get down to business...
1. Clinique Even Better Foundation - I've been using this foundation for about three years now. It's really smooth and goes on nicely. It's not super thick or cakey. It covers and evens out my skin tone beautifully. On the weekends, if I'm just running errands I'll squeeze just a bit of my Oil of Olay moisturizer I mentioned yesterday on my palm, add just a smidge of this foundation and combine together to create an easy tinted moisturizer.
2. Smashbox Photo Op Under Eye Brightener - I've just recently started using this product, but I'm already really loving it. It brightens my under eyes and leaves them feeling moisturized. Like Maeci, I have trouble with dark circles under my eyes and this product seems to be helping. It looks a bit shimmery in the tube, and although it has some shimmer in it, it doesn't look that way once you have it on. Then I just put on a little of my under eye concealer on top.
3. Lancome Maquicomplet Concealer - I loooove this concealer. It comes in several colors so it matches almost every complexion. It goes on smooth and doesn't leave you with rings around your eyes like some do. It doesn't cake or leave creases and stays on all day long. I just do one dot under each eye, spread in a triangle shape under my eye, then add one more dot under each eye and pat until it is blended. I also use this for any blemishes or spots.
4. Lancome Translucence Face Powder - I tried several powders before I started using this one a few years ago. It's not a heavy powder, but works beautifully to set your foundation and leave you with a flawless matte finish (that doesn't look too matte). My mom used this powder for years and now I can totally see why. It's great on its own and looks effortless when used to set your foundation.
5. Lancome Blush Subtil in 'Blushing Tresor' - I actually just purchased this beauty last weekend, so it's new to me, but I can already tell it's going to be a keeper. It's a beautiful fall tone - rosy pink with a gold shimmer to it. I'm a big fan of blushes with a bit of shimmer. I love the way the light reflects on my cheeks and it almost gives it a dewey look without actually being dewey. I just apply it using this big powder brush to give it more of a natural sunkissed look.
6. Urban Decay Eyeshadow Primer Potion - If you get nothing else from this post, then at least go purchase this amazing eyeshadow primer. It only takes the tiniest amount so the bottle lasts forever. I refuse to put on eyeshadow anymore unless I use this first. It sets the shadow in place and doesn't budge all day long. It doesn't get into your creases either so the shadow looks perfect.
7. Urban Decay Eyeshadow - I started using these eyeshadows earlier this year and really love them. They have a great velvety texture to them. My go-to color is "Sin" which is a shimmery champagne color that blends into my skin tone leaving my eyeshadow perfect for daytime. I also love their Naked3 palette which has rose gold tones in it. If I want to amp up the daytime shadow look, I add a little of the "Mugshot" color to my outer corners and blend.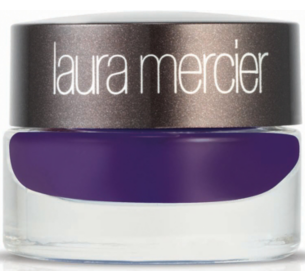 8. Laura Mercier Creme Eyeliner - I don't wear this eyeliner every day, but I do wear it often. It is stunning with green eyes (which I have), but looks great on anyone. It's a dark violet so it doesn't look crazy purple on you. I just use an eyeliner brush to swipe it on close to the lash line. It's a gel type cream so it goes on smoothly.
6. Benefit They're Real Mascara - Maeci talked about this mascara in her rundown, but I started using it again recently. I seem to go back and forth with mascaras, only because it seems like my lashes get used to whatever I'm currently wearing and it doesn't work as well over time (tell me that's not just me...). This mascara goes on and stays on, and I especially love the tip of the brush - it's great for getting into the corners of your lashes and close to the lash line. It doesn't flake at all. My only complaint would be that it is a little hard to get off with just my face wash. I use this eye makeup remover though and it comes off like a charm.
7. Tarte Amazonian Clay Waterproof Brow Mousse - Confession: I fill in my eyebrows. They aren't as full as they used to be and this brow mousse is amazing for filling them in without looking like a totally filled them in. The mousse is light and airy. Using the brush it came with, I just add a little to the angled brush filling in from the center bottom across then center top across and inside. Then I just brush over it to blend with the other end of the brush.
8. Trish McEvoy Lipstick - This is my all-time favorite lipstick. It goes on beautifully and the colors are always perfect. My two favorites are 'Precious Pink' and 'Sheer Mulberry.' 'Precious Pink' is a light pink that goes on looking very natural. You can see me wearing it here on my old blog. The 'Sheer Mulberry' is a natural merlot/mulberry color that is perfect for fall and winter. I'll be wearing it all the time!
And that's it! What are your makeup go-to's? Any favorites we should know about?